A Barchetta – pure of line.
Elegance and simplicity embodied in aluminum and steel.
The Siata 300BC is what students of design long for, a design with no compromises.
No door handles or trunk lid to spoil the lines. No convertible top or weather protection to take into consideration.
No scoops, vents or fins.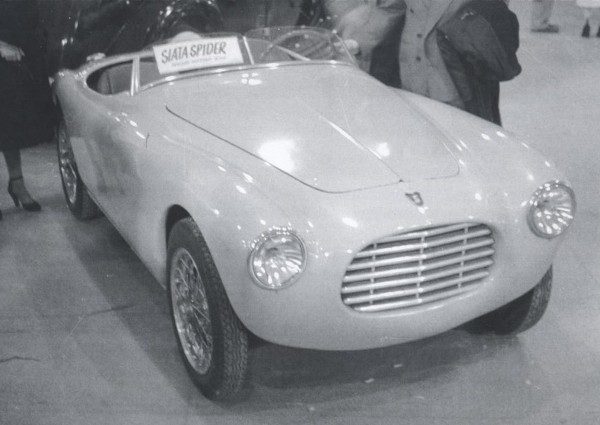 The Siata 300BC was designed to sell in America.
With its Crosley 750cc engine, Fiat suspension and mechanicals components, it was inexpensive and simple to maintain.
It raced competitively in the 750cc H-Modified class.
The cars were raced at SCCA events thru the 1950's and were well regarded by their owners.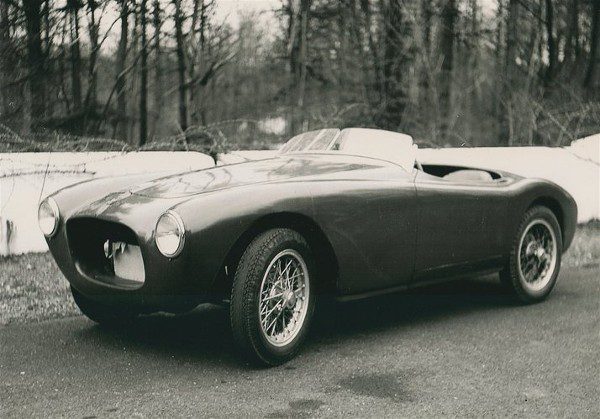 Siata built only fifty 300BC cars. The idea came from Tony Pompeo.
He believed he could sell a Crosley engined sportscar to the SCCA crowd.
The 300BC production falls into two basic groups.
Early cars: Crosley engined, Bertone bodied, Spyders
Late cars; Fiat engined, Motto bodied, Convertibles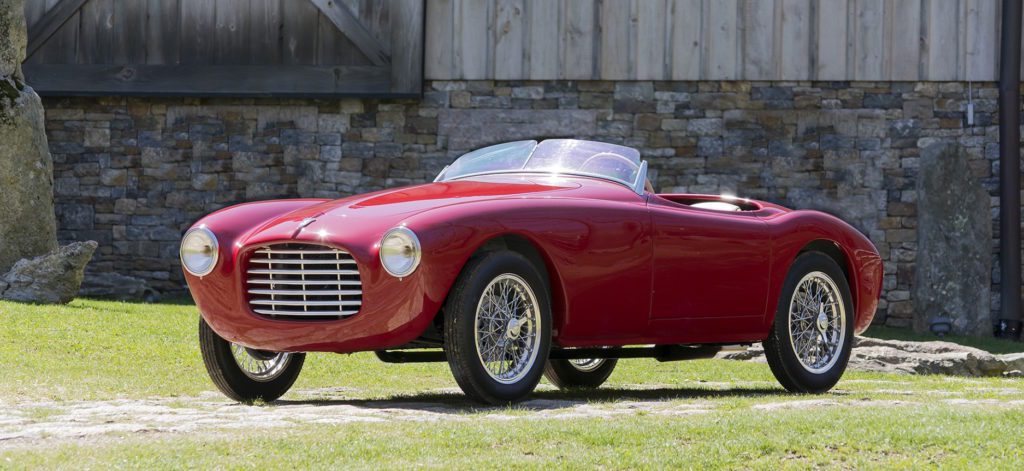 Early cars: Spyders that were built to accept a Crosley engine. They were, generally, shipped to the USA engineless, the Crosley engines were installed when they arrived. The bodies were built by Bertone.
Identifying features: Short windshield. No door handles. No convertible top or side curtains.
Chassis numbers: ST401BC to approx. ST435BC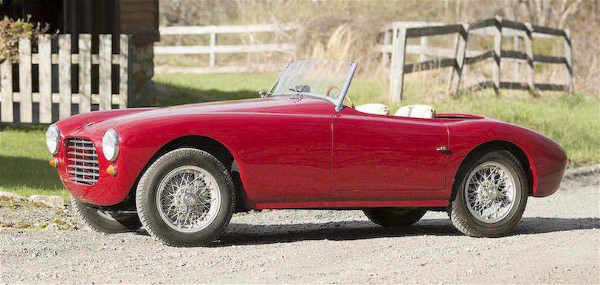 Late cars:  Fiat 1100 engined, Motto bodied, Convertibles. They had a convertible tops, side curtains.
Identifying features: Tall windshield, exterior door handles and side curtains. Bodied by Motto.
Chassis numbers: ST436BC to ST450BC.
This all sounds very neat and tidy, Crosley engined spyders and Fiat engined convertibles, but of course it wasn't.  There were several exceptions.  For example, chassis 417 was in the run of Crosley engine Spyders but was built as a berlinetta (fastback coupe) with a Fiat engine. While chassis 429 was also in the run of Crosley engined spyders but seems to have had a Fiat 500 engine installed from new. Chassis 432 is at the tail end of the spyders but is a convertible with Fiat engine. There are two main groups, but the dividing line is not clean.
Also there were several cars that arrived in America set up for Crosley engines that had something else fitted. MG engined, Jowett Jupiter, one car received a Barker engine, and one had a pair of Triumph 500cc engines Siamesed together and supercharged!
The players
Antonio ("Tony") Pompeo – American marketing savvy
Luigi ("Gino") Valenzano – experience and connections
Mario Revelli di Beaumont – design
SIATA  with bodies by Motto and Bertone- construction
Tony Pompeo was a New York automobile dealer who had been importing "slightly" used Italian sports cars from the late 1940's into the early 1950's. Giaur, Nardi, Bandini Cisitalia, the occasional Ferrari among others.  He believed the market was ripe for a well-styled, Crosley powered, sports car.
Gino Valenzano was an Italian race car driver of means. He raced Nardi, Lancia, Abarth, Maserati. Competing in the Mille Miglia, Targa Florio and LeMans.  He obviously knew his way around a fast car. He had experience and connections, both useful.
Mario Revelli (di Beaumont) had designed for Pininfarina, Viotti, Ghia and Fiat. He created some stunning designs and was the perfect man for the job.
S.I.A.T.A  (Società Italiana Auto Trasformazioni Accessori)  was an Italian car tuning shop and manufacturer founded in 1926 by amateur race car driver Giorgio Ambrosini. Siata initially sold performance parts to modify and tune cars manufactured by Fiat. After World War II, the company began making its own sports cars under the Siata brand name.  (Wikipedia)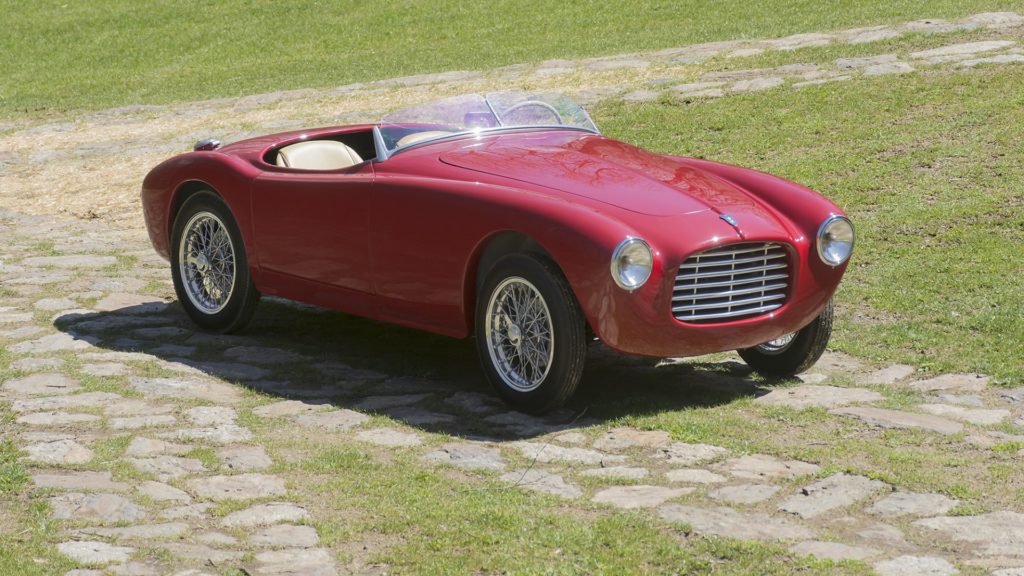 The cars are highly prized today. They can be seen on the lawn of many major Concours events and on the Mille Miglia.