The Porsche 917 is one of Porsche's best and most well known race cars. It won the 24 hours of Le Mans in 1970 and 1971. The 917 was powered by a flat 12 engine which varied in size from 4.5 to 4.9, and finally 5.0 liters. The car was capable of blistering acceleration thanks to its 520 horsepower (in early cars) and 1700 pound curb weight. It could accelerate from 0-60mph in 2.3 seconds, 0-124mph in 5.3 seconds, and had a top speed of 240mph! One of these 917 examples, the same one that was driven by Steve McQueen in the movie Le Mans, sold for $14 million at auction.
Check it out here on Craigslist: https://losangeles.craigslist.org/lac/cto/d/los-angeles-1970-baileys-porsche-917/6951796052.html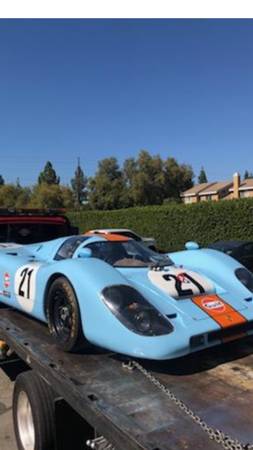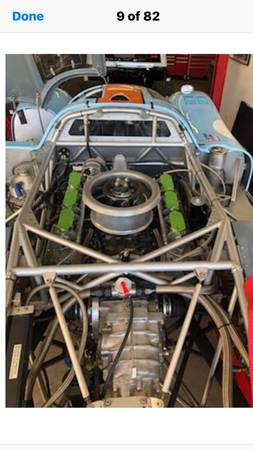 The example we've found today is a Bailey replica, and one with a flat 12 sitting in the back. It is a Ferrari flat 12 motor producing 428 horsepower, and it's paired up to a Porsche G50 gearbox. Ferrari used these Flat 12 motors in quite a few cars over the years, starting with the 365 in 1973. It's the same engine that would be used in the 512BB and the Testarossa, as well as the 512TR and 512M (the last application in 1996). Peter Bailey is a well known Replica builder out of Johannesburg, South Africa where he has been building race-ready replica GT 40's, Ferrari P4's, and Lola T-70's for over 15 years. The original 917 cars were actually made of Magnesium, which was light but not durable (and even flammable!). The 917 chassis' would have to be checked for stress fractures after each race! This Bailey replica has been upgraded to carbon steel, which adds 40kg but also gives the car much more structural rigidity as well as durability. Bailey has built a few of these 917's but many of them had engines that were not 12 cylinders (he used to race one with a 3.6 turbo Porsche motor, and later a 3.0 liter NA Porsche motor). At $750,000, or 5% the cost of a real 917 race car, this replica is looking pretty wonderful to us, and the best part is it's street legal!