This ad for a 1959 Isabella Sport Coupe is odd and interesting because we genuinely didn't know what it was. It has some nice curvy lines, like that of a vintage Italian car, and even has an Italian name "Isabella" but it turns out it's not Italian. This car is actually a Borgward Isabella Coupe, a German car manufactured from 1954 to 1962, with many variants available. To be clear, the car for sale is a project car, but the owner added some photos of a completed car to show what it could turn out to be.
Even on the internet information is limited, but it seems these cars came with a 75 horsepower in-line four cylinder motor, and weighed in at around 2200 pounds.
Check it out here: https://akroncanton.craigslist.org/cto/d/youngstown-1959-isabella-sport-coupe/6867445202.html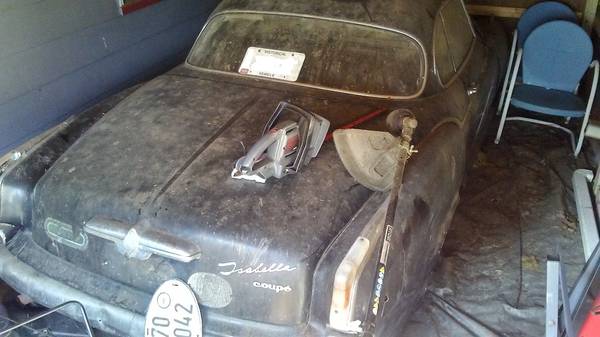 The public reception of these cars was actually very good and over 11,000 "Isabella's" were manufactured (across all variants, not just Coupe's like the one pictured) for the first model year of 1954. Problems with early models caused sales to take a bit of a dive which is why they probably never became overly popular, despite being thought of as good looking and a nice alternative to the Ford's and Opel's of the time. Borgward as a company were responsible for a lot of German automotive firsts including slab-sided styling, consumer gas fuel injection, air-suspension, automatic transmissions, and new construction methods. At one time Borgward was the second largest German auto manufacturer, before its bankruptcy in the 1960's. We know this is an oddball, but we thought it was too unique not to share!