Sold – 1954 Cunningham C3 Coupe. A very rare and desirable project.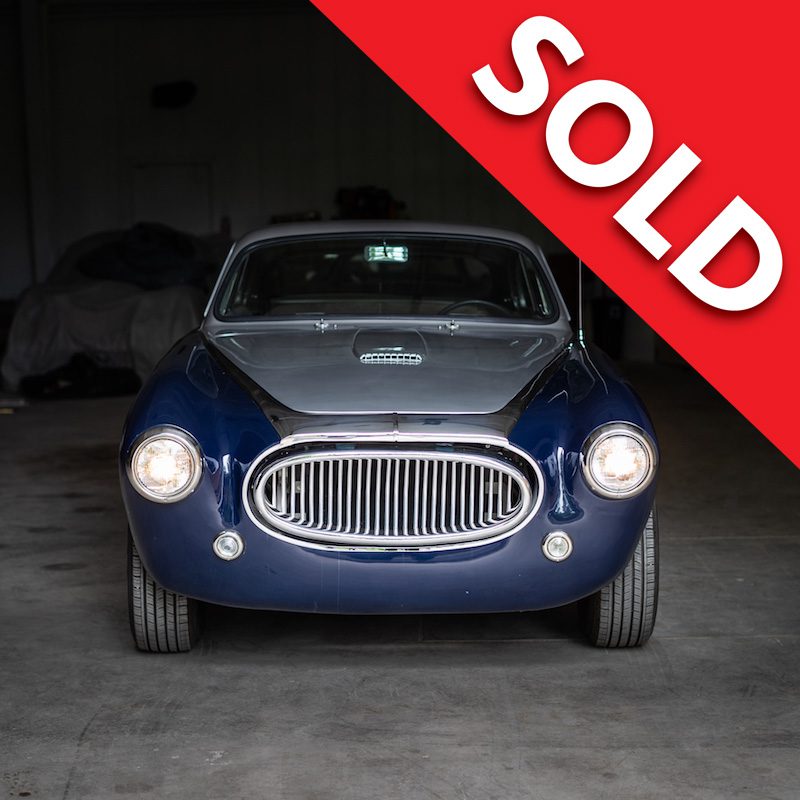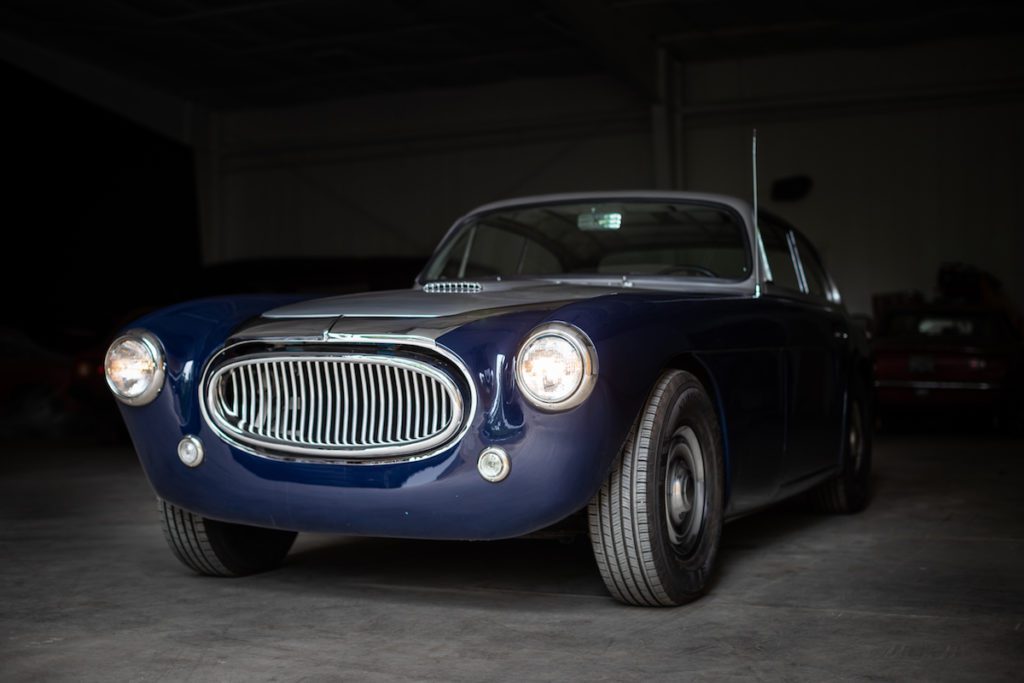 The Cunningham C3 was produced by the B.S.Cunningham Company. Briggs Cunningham, the owner, was a wealthy American sportsman who had won the Americas Cup in Yacht racing and wanted to win the prestigious 24hrs of LeMans in an American car. In 1952 new rules by the LeMans organizers specified that you had to produce 25 cars to qualify to race. For a sporting man with a checkbook the size of Mr Cunningham's this was an exciting challenge.  He put a team together to design and build the cars. The goal was to produce a sportscar of the highest quality in the $9000-10,000 price range. Calculations indicated that if the car was produced in house the cost would be closer to $15,000. This was back in 1953 when a new Corvette cost $3,523. It was decided to build the chassis and running gear at the Cunningham facility in Palm Beach, Fl and have the bodies and interior trim finished by Vignale in Italy. This would bring the finished cost to $9,000. Once finished the cars were sent from Italy back to America to be tested and sold.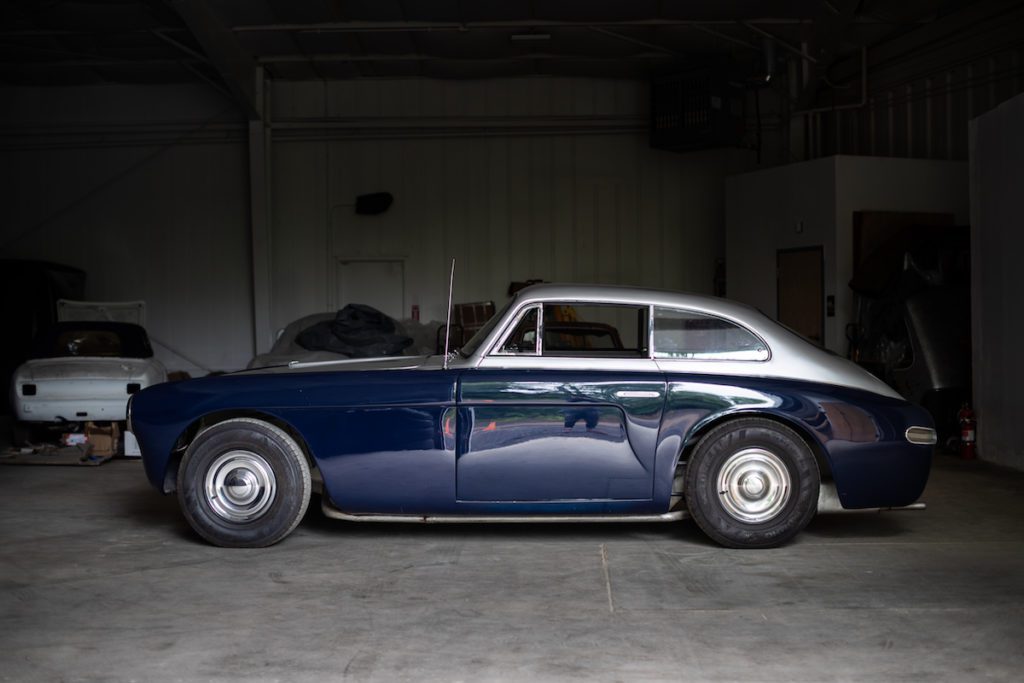 Following is the history of chassis C-3 5440,  as published in the twin volume Cunningham book by Richard Harman
C-3 Vignale Coupe 5440.
B.S.Cunningham company work order number W.O.39, not dated
Chrysler engine with four Zenith single-barrel carburetors mounted on a custom-built Cunningham inlet manifold.
Chrysler Fluid-Torque semi automatic transmission.
20 gallon fuel tank.
C-3 Vignale Coupe 5440 was shipped to Vignale on 3 Feb 1953 and returned to New York some considerable time after March 1953. It had the usual Chrysler heater and radio. The original finish was all black. The car was probably registered during 1954.
The car was delivered to first owner Abraham C. Sonnabend, soon after February 1954. Mr Sonnabend sold the car to Michigan resident, Howard Giradin in 1955. During this ownership, the original black bodywork was repainted red and a Chrysler 300 engine mated to a Chevrolet transmission (probably Warner T-10) was installed. Mr Giradin offered the car for sale in Road & Track magazine in July and September 1958 and it was bought by a person only remembered as a "young man from Syracuse, New York".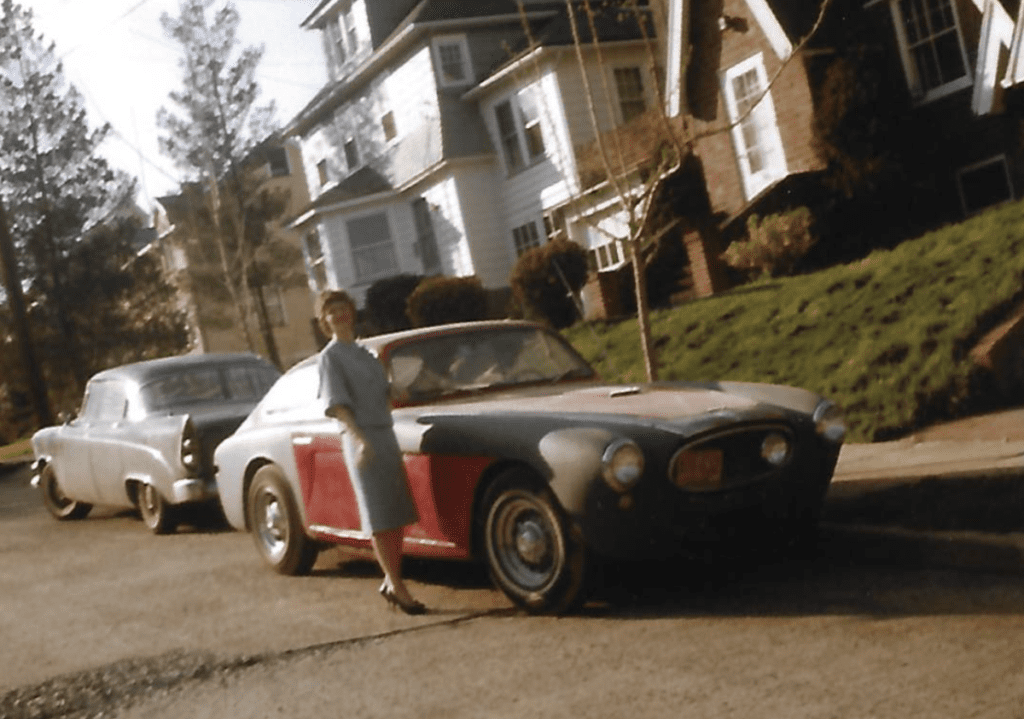 Following this sale, there is a missing portion of history, but in the late 1960s, 5440 was in Connecticut, and then owned by a New Jersey resident, Mr. Frederick. The next sighting was by George Anita, a New York enthusiast who saw the car in a scrap yard in Queens, and bought it despite its poor condition. The engine, transmission and windscreen were missing, but the floor gear shift mechanism remained, as did the electric windows and electric fuel pump which were probably not original. The owner installed a late 1950s Chrysler engine with a Torque-Flight automatic gearbox.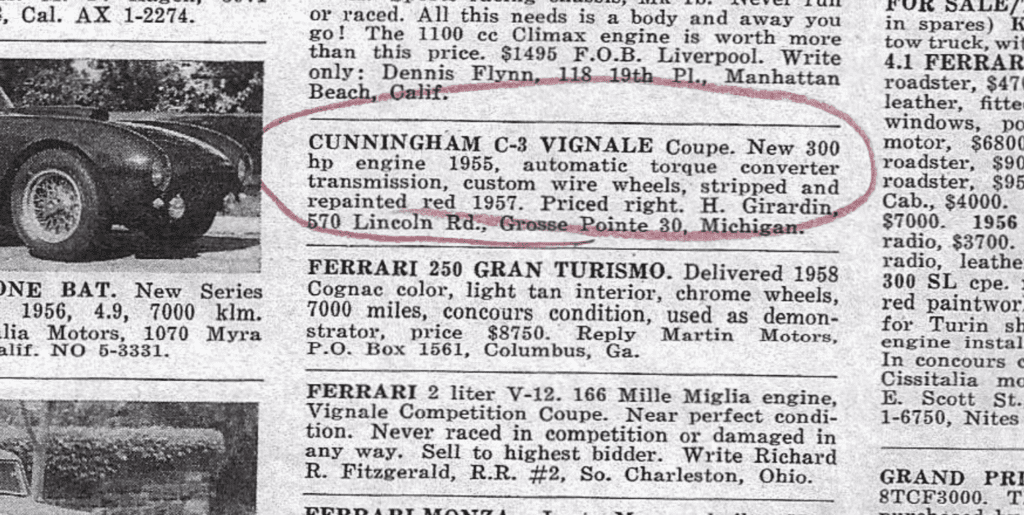 Road and Track 1958. Cunningham 5440 for sale. 
In the early 1970's, Mr Anita swapped it for 5441, with Ali Lugo from Connecticut.  . Mr. Lugo advertised 5440 in the New York Times in July 1977, from where it was sold to Larry Tory from New York.
The car was examined by B.Bruce-Briggs in 1977, when it was finished in cream with brown interior trim, but had a badly dented and rusted body, which was subsequently stripped and re-painted.
Mr.Tory advertised the car in Road & Track magazine early in 1980, and Hemmings magazine of March 1980 and it was sold at the end of that year to a new owner in Illinois, Dean Dietrich, who intended to restore it, but did not start the work.
During 1993, the car was acquired by Charles " Chuck" Bronson from Iowa, who sold the car to Daniel Rapley in 2001, with no signs of any restoration work being evident. In quick succession 5440 changed hands to Derek Durst, who advertised it on eBay, and sold it to collector Lou Natenshon, an architect from Highland Park, Illinois, during 2001.  A thorough restoration was started, including a new resplendent blue and silver paint finish, and Mr. Natenshon  proudly displayed the almost completed car at the 2011 reunion of Cunningham's at Mar-a-Lago, Florida, following a memorable visit to the former premises of the B.S.Cunningham Company in West Palm Beach.
Additional info since the publication of the Cunningham book/registry.
5440 was shown at Cunningham reunion at the Greenwich Concourse in 2018 and subsequently sold  to Peter Kumar. Mr. Kumar then sold the car to Daniel Rapley, who had owned the same car 18 years earlier in 2001.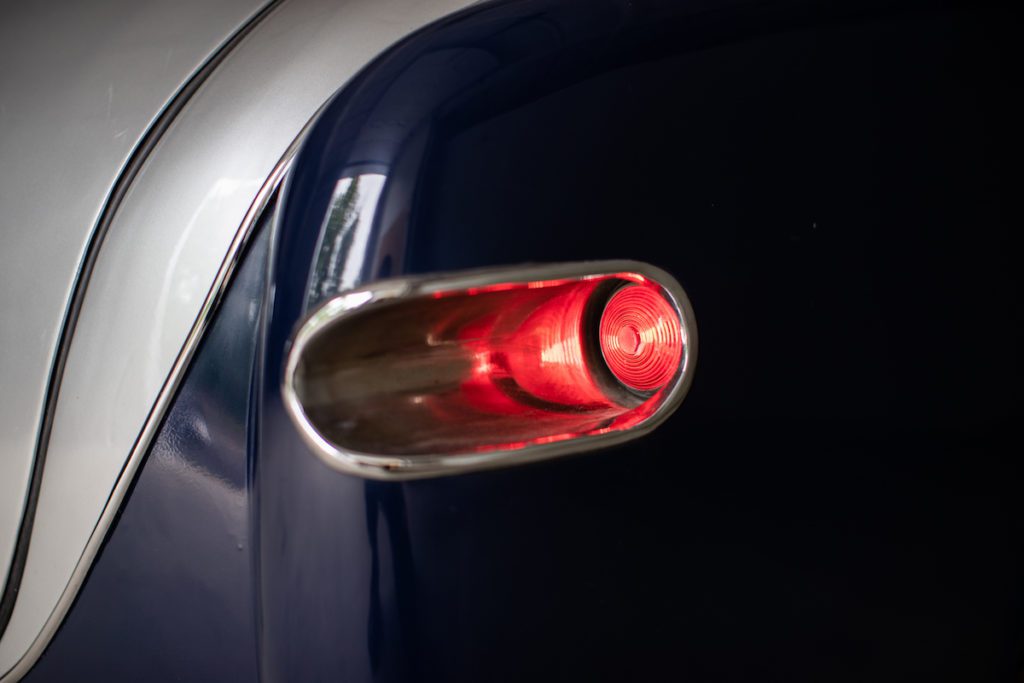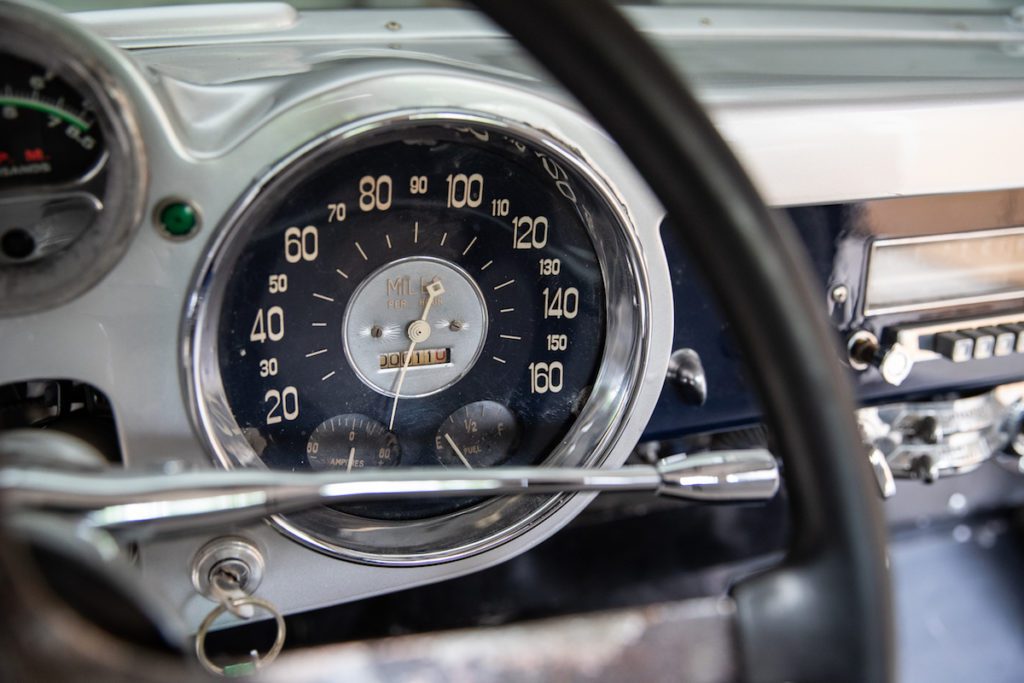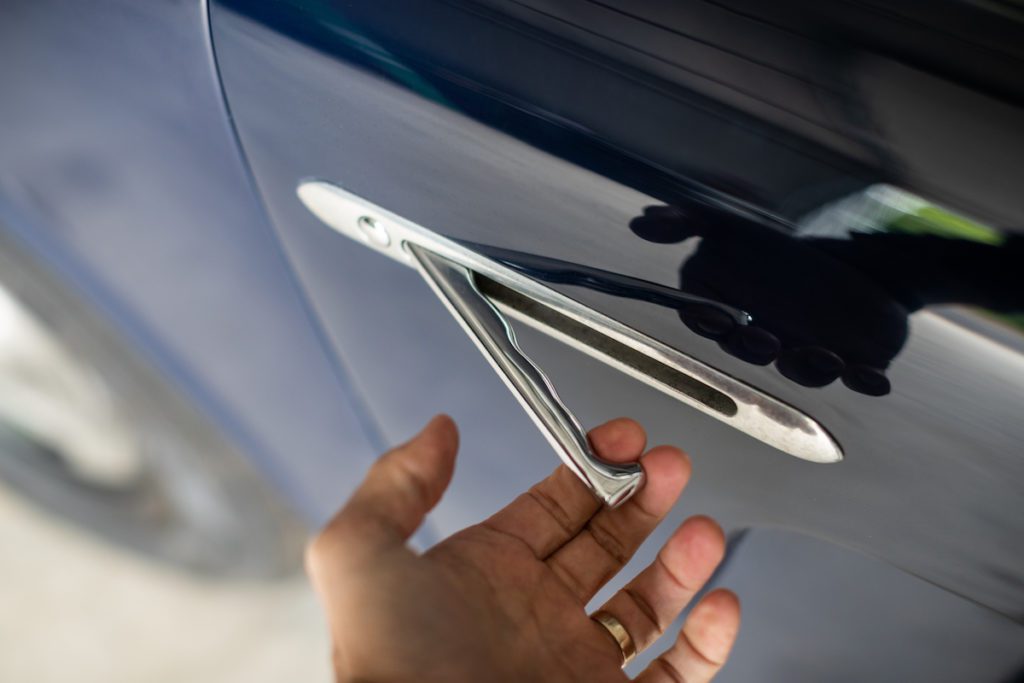 Current condition:
The car is currently running and driving. Its original chassis, suspension and drive line is complete and in very good condition.  The body was last repainted many years ago and is showing blemishes, some small pimples and various nicks and scratches. The engine compartment is complete and correct. The interior is complete and in need of restoration.
The car would benefit from a complete restoration.
Year: 1954
Make: Cunningham
Model: C3 Coupe
1 of 20 Coupes
1 of only 3 black cars.
The only Black paint / White leather color combination.
Condition: Driver – needing restoration
Location: Brookfield, CT, USA
RAPLEY CLASSIC CARS
Specializing in the Rare and Desirable
500 Federal Road
Brookfield. CT 06804
Daniel@RapleyClassicCars.com
Signup For Our Newsletter