If you've ever wanted to breed a gear-head get them a go kart. If you've ever really wanted to breed a gear-head, get them a Ferrari Testarossa go kart. That's what we've come across in the Netherlands. The ad is sparse, but it seems to be a pretty cool model of a Testarossa, with retractable headlights to boot! The color combo of red over white is not full 80's cocaine cowboys, but it's cool and classic Ferrari.
Check it out here: https://www.hemmings.com/classifieds/cars-for-sale/ferrari/testarossa/2256489.html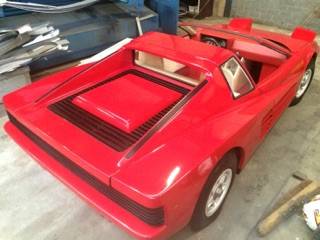 This go kart has a 5 horsepower Briggs & Stratton motor with 2 speed automatic transmission. You're not going to show up at your local go kart track and set the fastest lap, but you'll look the coolest doing it. At $25,000, not including shipping, this is a very expensive go kart; we'd rather take a couple shifters and a rotax karts, thank you very much. Pretty sweet nonetheless!