The Acura NSX is the original everyday supercar. You could jump in it, drive to work, blast home the long way, and hop out feeling fresh (and very much like Ayrton Senna, after all he had a big hand in developing the original cars). It looked cool, sounded lovely, and wouldn't leave you stranded on the side of the road. In all markets outside of the US the NSX is a Honda, and Honda's are most certainly known for their reliability. The NSX didn't have a big V12 behind your head (although the NSX is mid-engined) like the Lamborghini's of the time, but the 3.0 liter V6 (or 3.2L later) with Honda's VTEC variable valve timing system was a wonderful powerplant that provided enough oomph to impress you and your passenger.
The Zanardi edition is the rarest NSX that the came to North America. Just 51 examples were produced, with serial number 0 being the press vehicle, and serial number 1 being built for Zanardi himself. The rest were sold to the North American public. Acura built these cars to commemorate Alex Zanardi on his back-to-back championship wins in 1997 and 1998 in the North American CART Champ Car open-wheel racing series. These special edition cars were allocated to dealers based on their NSX sales, so some dealerships never got their hands on one.
The Zanardi edition has the larger 3.2 liter motor producing 290 horsepower and 224 lb-ft of torque (this was the same as the standard NSX). Like many special edition cars, the Zanardi improved its performance through weight savings; "add lightness" as Lotus' Colin Chapman would say. With a fixed-roof configuration, single-pane glass in the rear, replacing the power steering with full manual rack-and-pinion, lightweight BBS alloy wheels, a lighter battery, and a lightweight rear spoiler, the Zanardi weighed in at just 3015 pounds, 149 pounds less than a standard NSX-T. Acura didn't stop there, the Zanardi cars also received revised suspension setups, a 0.4 inch drop in ride height, and some unique interior pieces including a special Zanardi signature plaque.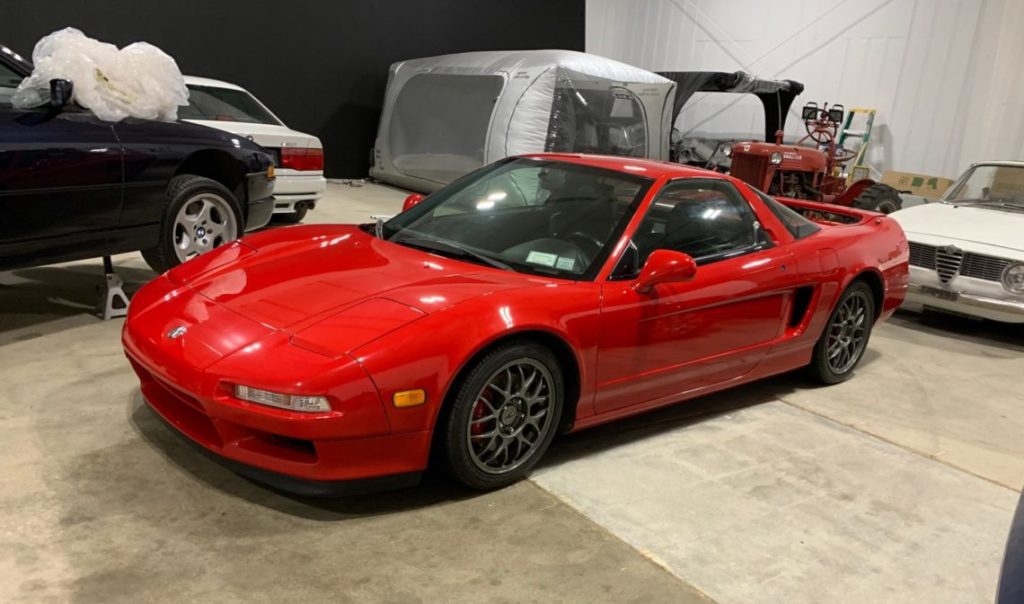 NSX Zanardi number 43 in our warehouse awaiting service.
Of the 51 cars that came off the production line, 35 are accounted for on the NSX Forum in a thread titled "Official Zanardi". Of these accounted for cars, some have salvage titles, some are modified, and one was stolen and never recovered. We have car number 43. According to the registry, this car is noted as having a JGTC Parallel exhaust. It was sold new by Acura of Greenwich, and sat in a collection in New York City for a few years. We purchased the car from a private seller in Saratoga Springs, NY. It now shows 57,000 miles, comes with a clean carfax, and the original window sticker. We'll come back to you once it's ready to be seen.