We came across this very cool barn find featuring six MGA's and a Jaguar XK120. Interestingly, there is also a BMW Isetta pictured, but seemingly it has been sold or is not for sale. The owner states that it's time to get rid of everything, and as such has created the ad to do just that. The six MGA's are in varying conditions, from a pristine '58 MGA Roadster, to quite rusty. It seems like there is definitely room to make a package deal, which would end up benefiting both the seller and the buyer!
The MG MGA was produced by MG from 1955 to 1962. There were over 100,000 of these cars produced through the end of the 1962 production run. These MG's ranged in horsepower from around 70, up to around 110 for the twin cam engined cars. Given that there are a range of years represented, you can see some of the subtle design changes like different colored parking lights, some altered badging, and a few other things here and there.
The Jaguar is a 1951 XK120, which came with a 160 horsepower inline six cylinder motor. There isn't much said about it specifically, so it's hard to say if it's a base model or one of the S (special equipment) versions.
Check them out here on Craiglist in Houston: https://houston.craigslist.org/cto/d/manvel-jaguar-xk120-twin-cam-mga-five/6914187184.html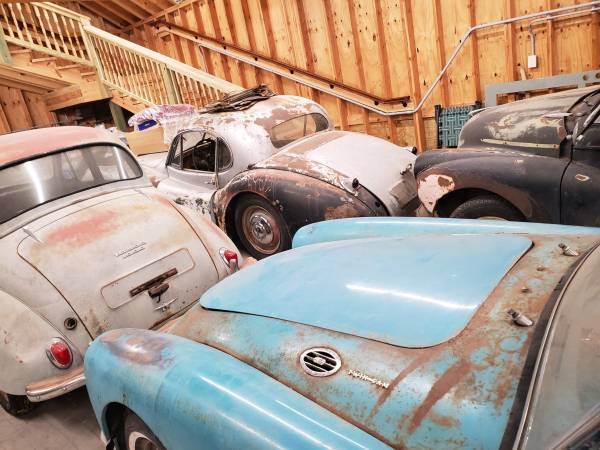 The owner noted them as follows, to avoid confusion:
1951 Jaguar XK120 Coupe $27500
1960 MGA MKI Coupe (white) $3750
1957 MGA Coupe (primer) $4750
1958 MGA Roadster (white) $3750
1962 MGA Roadster (black) $8000
1959 MGA Twin Cam (blue) $20000
1958 MGA Roadster (Timewarp) $20000